Super Strength Training Secrets | Supplements | Articles | Links
FREE Strength Training eBook
The Secrets of Gaining Super Strength
And Building Lean Muscle Mass!

Enter your first name and a valid email address
for instant access to the free workout ebook.


" They Laughed When
I Picked Up The Steel Bar
But Then I Bent It In Half!"

Learn Super Strength Training Secrets from
One of the Greatest Strongmen of all Time!
Dear Friend,
Let's face it…. People are impressed by amazing feats of strength and not just lifting heavy objects but things like snapping a basbell bat in half, smashing a cinder block or ripping apart a licence plate!

To succeed at these types of feats of strength you have to learn the special techniques and exactly how to apply them. Only a small number of people have ever learned these amazing secrets and most of them went on the set world records!
Now you too can learn:
The Comprehensive Training, Techniques
and Preparation Involved for Making
Strongman Stunts Easy!
NOW IT'S POSSIBLE to perform spectacular feats of strength that will thrill and amaze all your friends. Here, at last, is a complete book that reveals for the first time ever how to perform authentic old-time FEATS OF STRENGTH as exhibited on stage by strongman supreme Mike Dayton.
"Who is Mike Dayton?" You ask...
Mike Dayton is a major physique title holder in the competitive bodybuilding arena and an exhibition strongman. He participated on the T.V. Guinness Game Show, and in less than two minutes earned a place in the Guinness Book of World Records, American Edition by performing the following feats of strength with ease:
| | |
| --- | --- |
| | ...SNAPPED TWO BASEBALL BATS IN HALF! |
| | ...SMASHED A RED BRICK AND CINDER BLOCK! |
| | ...TORE A LOS ANGELES PHONE BOOK IN HALF! |
| | ...BENT A METAL FILE AND SCREW DRIVER! |
| | ...BROKE A PAIR OF BOLT CUTTERS! |
| | ...RIPPED APART A LICENCE PLATE! |
If you have ever desperately wanted to perform strongman feats or prove your power with dynamite results, here is the book for you.
Introducing…

"Legendary Feats of Strength "

Mike Dayton's Super Strength Training Secrets!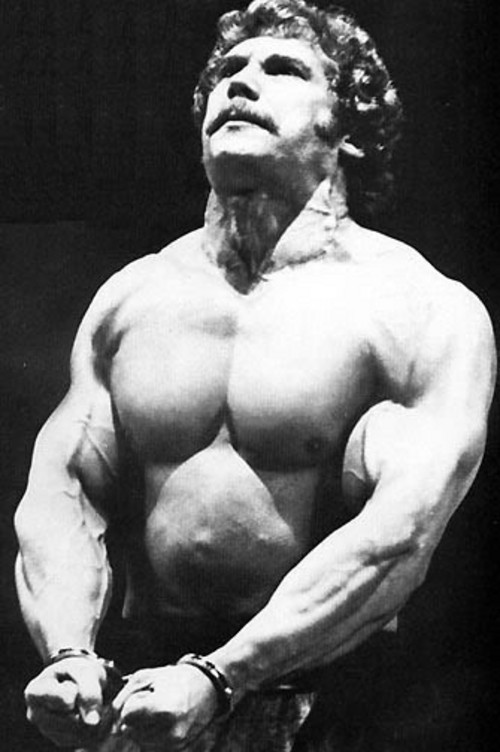 Mike Dayton Breaking Handcuffs
In this book, Mike clearly explains and outlines step-by-step how to perform a myriad of feats of strength.
Your muscle power can't help but explode with excitement as you learn from Mike Dayton:

How To Break Out of Regulation Police Handcuffs!

How To Tear Thick Phone Books In Half!

How To Break Baseball Bats!

How To Bend Steel Bars!

How To Bend Coins With Your Finger Tips!

How To Tear A Tennis Ball to Shreds!

...and much MORE!
Make Full Use Of This Knowledge
And Unleash The Super Strength Within You!
This book is the FIRST and ONLY instruction, that no body else talks about, for learning exactly how to prepare and perform FEATS OF STRENGTH.
The super low price I'm charging for this book can't last long. So make sure you take action and get a copy of this book right away before the price goes up!



Grab Your Copy For Only…

$9.97!
After you enter your credit card information over our secure server you will be able to download the ebook right away!
*Note: This comes in PDF format so it can be read on any computer with Adobe Acrobat Reader (free from Adobe). If you need a copy of Acrobat Reader you can get it here www.Adobe.com.
P.S. Remember, this low price will not last long… so don't hesitate and grab a copy right away!
P.P.S Your strength will not improve if you don't take a plunge. Which is worse? Telling people that you failed to discover the fast ways to improve your strength or saving yourself the embarrassment and learning the truth about being the best you can be?
Super Strength Training Secrets | Supplements | Articles | Links

Get fast results with the best Omega3 fish oil supplements at bestvitaminsforall.com
Copyright © 2002-2017 StrengthLore.com. All Rights Reserved